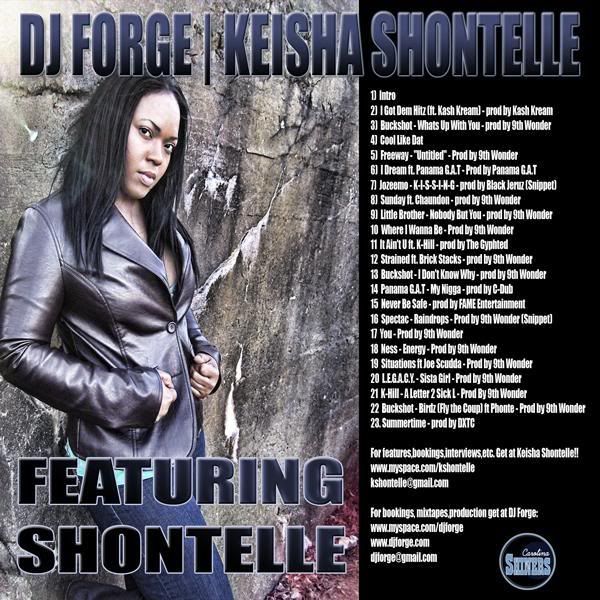 Check Out DJ Forge's new Mixtape with Keisha Shontelle.
"Keisha Shontelle is known for her versatility as a singer, a song writer and also her ability to deliver raw lyrics as a rapper. Keisha came up the same way many aspiring singers do through church and school choirs. She set herself apart at an early age by writing her own songs to express her feelings about the world that she was experiencing. She grew from an exceptional child into the experienced woman that she is today and her music reflects that in her soulful singing and her gritty rap lyrics.
Beginning in 1998 her music career began to blossom. She began recording her own songs with original beats. Instantly she was a local radio favorite, always winning the battle of the songs even against established artists. She began opening up for various acts at concerts in North Carolina such as Jagged Edge, Sunshine Anderson, Harold Melvin and the Blue Notes.
To date she has worked closely with 9th Wonder of Little Brother (Atlantic/ABB), Little Brother (Atlantic/ABB), Freeway (Def Jam/Roc-A-Fella), Ness (Badboy), Buckshot (Duck Down), Joe Scudda (HOJ/6th Hole), Spectac (Principals of Entertainment), K-Hill (Kick-A-Verse), Legacy (HOJ/6th Hole), Panama Gat (Dope Muzik) and several others.
She has been called on to not only sing hooks but also to write them and contribute to the writing process. Her discography is a testament to her ability to write infectious hooks as well as perform them. Keisha is currently working on her own album as well as featuring on several mixtapes and other artists albums this year. "