I think this is a pretty cool ass pack. I was surfing around and ran into the Giant Panda Dunk High's that are part of this pack. I looked some more and found the info on the rest of the pack. I think I'm a fan of the lows, but overall, it's a pretty cool pack and once you read about it, it will all make sense. :) Check em out: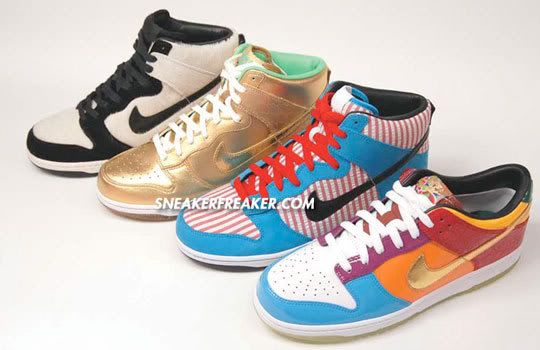 "The Fukuoaka Dunk Lowhas a white toe box that is framed by a blue border. The midsection is colorful. The Nike swoosh is gold.

The Osaka Dunk Hi has the same blue border around the toe box. The main section has red-white pin stripes. It represents Doutonbori; a drumming doll. The Nike swoosh is in a striking black color. The red shoe laces complement the red pin stripes.

The Nagoya Dunk is gold colored. It represents the dolphin that is the mascot for the city. The white lace and green inner lining are good matches for the gold colorway.

The black and white Dunk is the hairy Tokyo Dunk. This represents the big panda named Ling-Ling. This is the easiest Dunk to identify. The off white color of the main body looks good with the black colored accents. I prefer this Dunk because it is versatile and can be used in many functions."
-SneakerFreaker